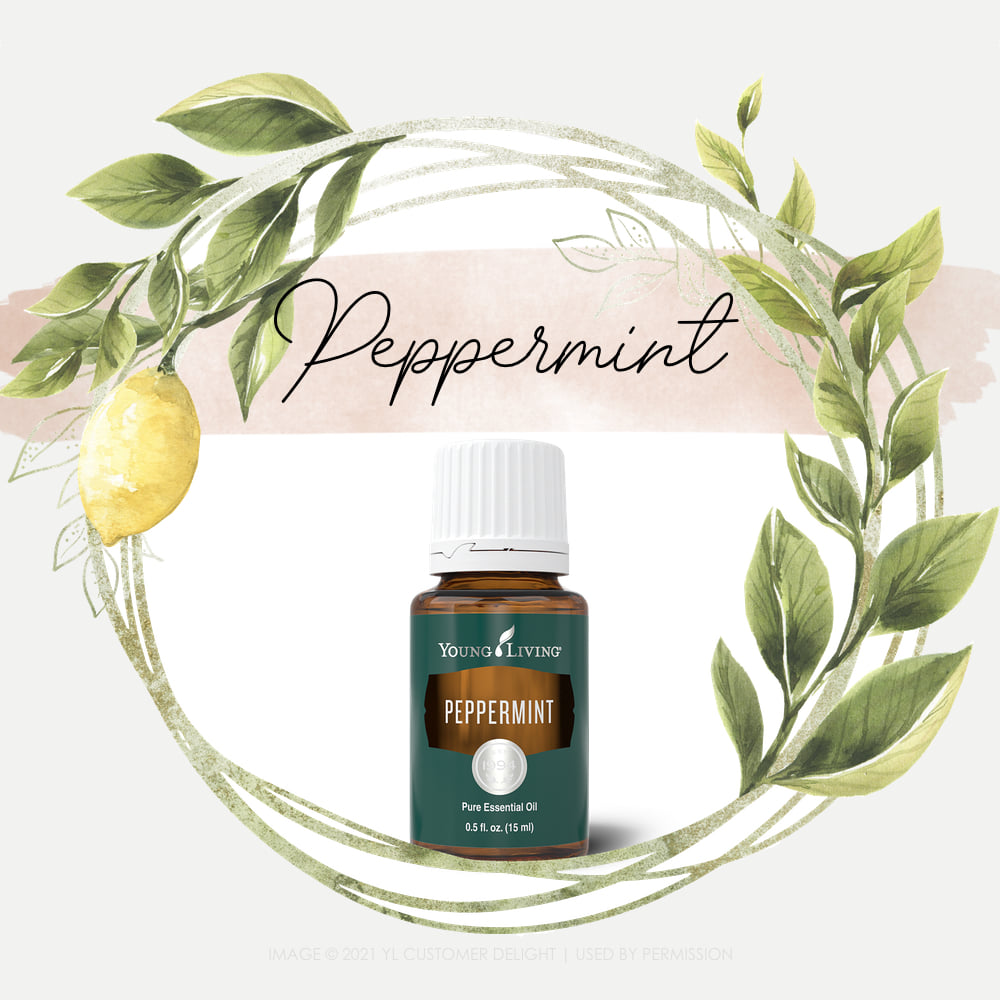 Fresh, nostalgic, and instantly recognizable. Peppermint Essential Oil invigorates the mind and livens up your senses while inspiring a sense of calm. It's a well studied oil and has proven to be useful for many things! Used topically, Peppermint oil creates a cool, tingling sensation on the skin, making it a favorite for sports massage and an important part of Young Living's Raindrop Technique. Using with a carrier oil is preferable for many people. Peppermint can also be diffused and can be ingested according to the FDA's list approved for consumption.1
For Your Mind
When your day is dragging on and on, you're having a hard time concentrating or you need a lift before a vigorous workout Peppermint EO applied to your head base of neck and throat may give you just what you need to be on the top of your game. The refreshing aroma offers a boost of positivity so diffusing it is a great idea too! Pair it with Lavender, Rosemary, Spearmint, or Sage for a softer scent.
For Your Muscles
Peppermint is a key ingredient in PanAway, AromaEase, Aroma Siez, Relieve It, and Deep Relief Roll-On essential oil blends because of it's powerful effect soothing sore muscles.2
For Seasonal Stuff & Stuffiness
Many use what we call an Allergy Bomb to help reduce the annoyances of outdoor and/or indoor allergens. Combined with Lavender, Lemon and Copiaba, and used consistently, this combo helps you enjoy life again. The combo can be put in a capsule for ease or made into a roller ball for topical application. Our Vitality line (5ml) is labeled and approved for ingestion, but the exact same oil goes in our regular bottles and it's a little cheaper to buy the bigger bottles (15ml).

Peppermint alone, used topically, can help relieve the fog and stuffiness.
For Exercise Performance
An article on the NIH (National Institute of Health) site titled, "Instant Effects of Peppermint Essential oil on The Physiological Parameter and Exercise Performance"
share some evidence that ingesting Peppermint Vitality may increase exercise performance while stabilizing your body.3
For Your Gut
The conclusion of an article about
IBS
confirms that... "
In the most comprehensive meta-analysis to date, PO was shown to be a safe and effective therapy for pain and global symptoms in adults with IBS." The article was found of NIH.gov and titled, "The Impact of Peppermint Oil On The Irritable Bowel Syndrome: A Meta-analysis Of The Pooled Clinical Data".4
For Respiratory Issues (of all sorts)
"In the European Pharmacopoea,
more than 25 essential oils are official. Among them, e.g. the essential oil of anise, bitter fennel fruit, eucalyptus, peppermint, tea tree and thyme are frequently used for the treatment of respiratory tract diseases." This quote is from the NIH site in this article, "Essential Oils In The Treatment of Respiratory Tract Diseases Highlighting Their Role in Bacterial Infections and Their Anit-inflammatory Action: A Review".5


For Hair Growth

Because of the terrible side effects of some of the hair growth products on the market, some toxicology researchers sought better alternatives and got their findings published on NLM. "

We found that PEO remarkably promoted hair growth compared to SA and JO, even faster than MXD without significant change of body weight gain and food efficiency." They also said,

"In our study, we found that PEO induced very thick and long hair after 4-week topical application and promoted the elongation of hair follicles from the epidermis down to the subcutis..."6

HISTORICAL USES OF PEPPERMINT


Peppermint leaves have been used as a remedy for indigestion since the Ancient Egyptians, and the ancient Greeks and Romans valued it as a stomach soother as well. During the eighteenth century, the herb became popular in Western Europe as a remedy for nausea, vomiting, morning sickness, respiratory infections, and menstrual disorders.





Peppermint was first listed in the London Pharmacopoeia in 1721. In modern times it appears in the British Herbal pharmacopeia as a remedy for intestinal colic, gas, colds, morning sickness, and menstruation pain.
---
---
Your health can be better ~ naturally. Feel free to
email me
for a free consultation.
To order Young Living Essential Oils or nontoxic products, please use my link:
youngliving.com - thanks!