Jade Lemon Essential Oil
(EO) is from a unique lemon that stays green, even when ripe. Yet, there's still something bright and sunshiny about the scent of a Jade Lemon™, even though it's green - not yellow like sunshine! It's a unique fruit and we are proud to say, Jade Lemon EO is Young Living (YL) exclusive. The oil is pressed from the rinds of the Citrus limon eureka var. formosensis, a stunning plant! And, in case you're wondering, it is not a GMO (genetically modified). All of our products, and every ingredient in our products are 100% pure, organic and natural.

It's scent is soft and crisp and a little bit sweet as opposed to the tart aroma of a lemon.
Here's a fun tip:

Elevate your classic lemon bars with Jade Lemon Vitality!




How To Use Jade Lemon
Diffuse
Create an inviting aroma and bring the mood up in your office or retail store to encourage your prospects or help you when it's time tidy up after a long day. Turn any space into a little slice of lemon heaven with just a few drops in your diffuser.
In Your Car
Keep your car smelling fresh by adding a cotton ball or tissue with 1 or 2 drops of Jade Lemon to your vents. You can also use a vent clip diffuser or battery diffuser made especially for vehicles.
For Cleaning

Add a few drops of Jade Lemon to distilled water in a glass or PET, PETE or HDPE plastic spray bottle for a DIY cleaner that is especially good for sticky messes like grease, tar or glue. Use undiluted if it's a particularly sticky mess! And next time you get gum on your shoe or your little one gets gum in their hair, don't despair - Lemon or Jade Lemon will do the trick!
On Your Skin
Add a bright spot to your day with some self-care! Combine sea salt with a few drops of V-6™ Vegetable Oil Complex, Ylang Ylang, Peppermint, Jade Lemon, and Lavender to exfoliate your skin. Don't have time to exfoliate? Simply add a few drops of Jade Lemon to your favorite Young Living skin care product.
Citrus oils cause photosensitivity, so avoid direct sun exposure at the site of application for 12 hours after using it topically.
Freshen The Air

Say goodbye to mysterious smells by placing a cotton ball with a few drops of Jade Lemon inside shoes, garbage cans, and other stinky spaces.
Purify

Add a few drops of Jade Lemon to your dishwashing detergent to leave your machine smelling fresh and clean.
In A Recipe
Try
Jade Lemon Vitality™
in place of lemon or lime juice. Our Vitality oils are in compliance with FDA labelling laws for food. So add a drop or two to a glass of water or to your stainless steel water bottle to have water you will want to drink all day! It's great with chicken, in cocktails, in yogurt. . .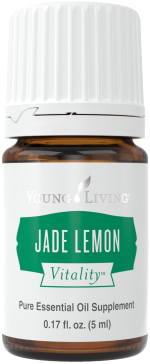 ---
Your health can be better ~ naturally. Feel free to
email me
for a free consultation.
To order Young Living Essential Oils or nontoxic products, please use my link:
youngliving.com - thanks!