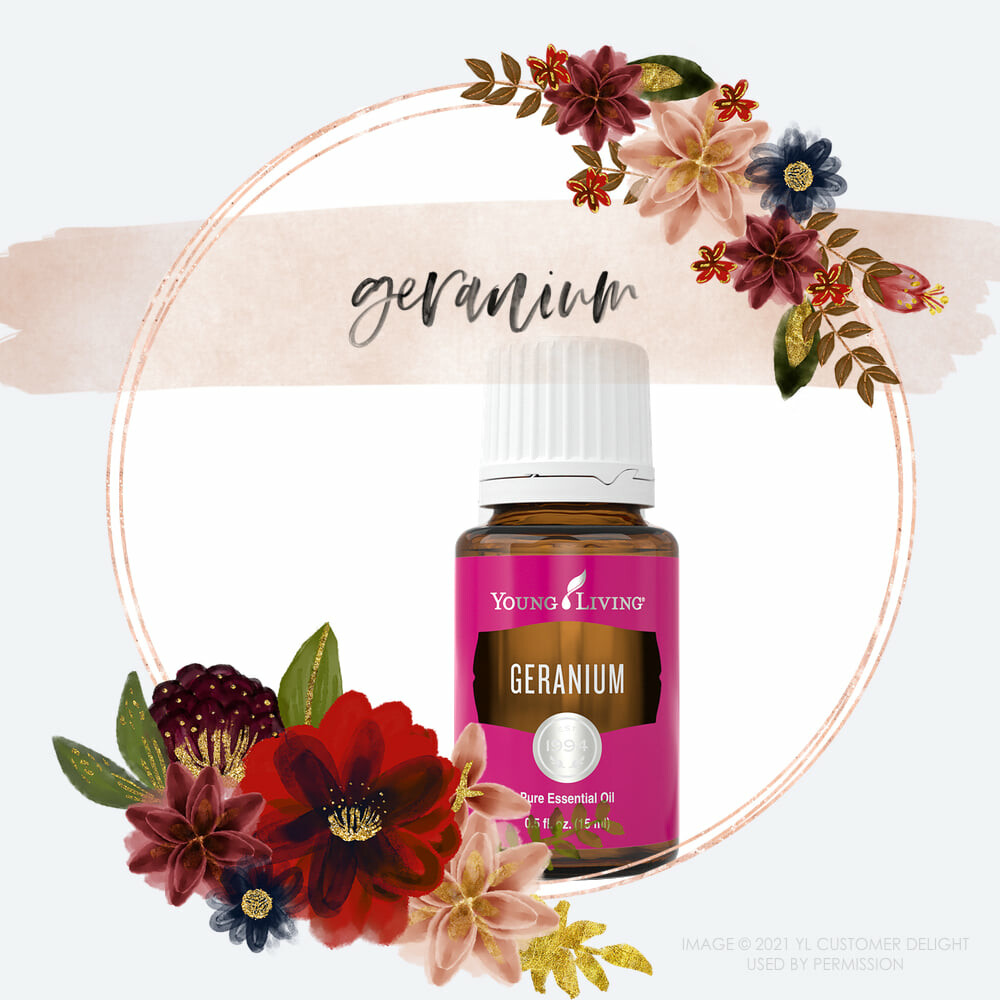 Geranium essential oil (Pelargonium graveolens) is carefully steam distilled from the fragrant flowers and leaves. We know it as a popular garden plant in North America, but it actually native to South Africa.
With it's sweet, floral scent, it is used in many commercial perfumes. Widely known as a fantastic hormone support, it is also excellent for healthy skin and beautification.
Can calm sensitive skin.

A gentle oil great for baby's cradle cap. Just dilute with a carrier oil and massage into scalp.

Relief for a breastfeeding mother's cracked or painful nipples.1

For dry skin, add a drop or two to a carrier oil or your favorite body wash and/or lotion.

Use in bath to create a spa-like experience and give your skin a full body treat.

Supports healthy circulation, improving the look of your skin.
Other Historical Uses of Geranium Petals
The use of geranium as an aromatic plant is known to have existed for thousands of years and goes all the way back to the early days of the Egyptians. The upper class typically used it to improve and beautify their skin and to help relieve anxiety by making serums and salves with the petals of the flower. What has been historically dismissed for 110+ years is now being validated with recent studies.2
Tea Tree Essential Oil, also known as Melaleuca alternifolia or Melaleuca Essential Oil, is one of the most widely used and extensively researched oils, making it a must-have for every home. Benefits include:
Cleansing for face and body.

Helps keep skin clear of blemishes.

Use directly on blemish by dabbing with a cotton swab.

Scalp and hair treatments.
As one of the most researched essential oils, there are more than 270 articles on nlm.org (National Library of Medicine/PubMed). It is a powerhouse oil, proven to do so many things! From the the reduction of lice3 to the reduction of blemishes, to things I cannot say (because I am not a doctor). . . this oil has gotten the attention it deserves.
Other Historical Uses of Tea Tree
The leaves of the melaleuca tree (or tea tree) have been used for centuries by indigenous Australians to heal cuts, wounds, and skin infections. The Aborigines used "tea trees" as a traditional medicine by inhaling the oils from the crushed leaves to treat coughs and colds. They also crushed the leaves, sprinkled them on wounds, and used them to make treatments for sore throats and skin ailments.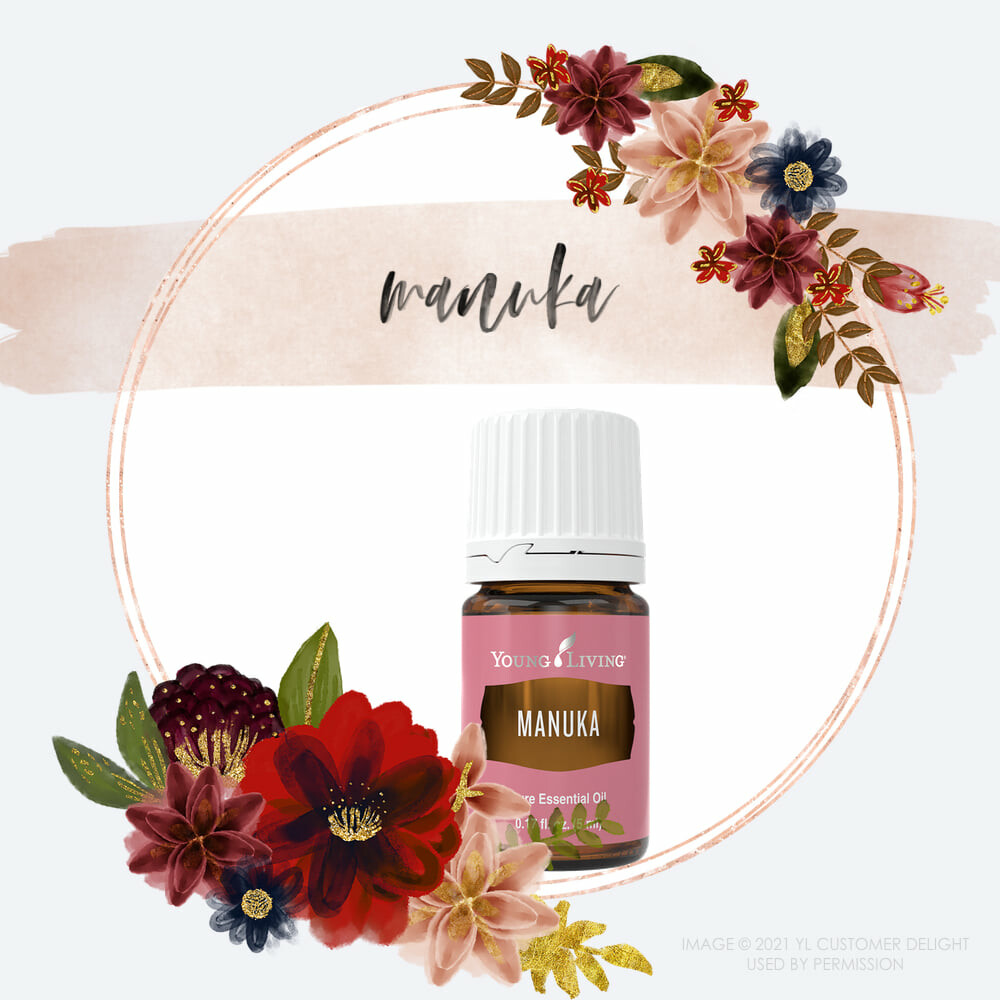 Manuka essential oil comes from the myrtle family, Myrtaceae, and is native to Australia and New Zealand. Steam distilled from the leaves and stems of the plant, Manuka oil has a woodsy, slightly sweet scent. Here's how Manuka can be added to your beauty regimen.
Add a drop to your skin care products to calm the appearance of dry, irritation.

Reduce blemishes by using a cotton swab to dab it on (similar to Tea Tree).4

Apply topically to feet or toenails to keep them healthy.

Use in a foot soak to invigorate tired feet and to keep nails pretty.
Historical Uses of Manuka
Manuka was used throughout New Zealand and Australia as a remedy for urinary complaints and to reduce fever. Head colds were treated by inhaling the steam of boiling water with Manuka. A tincture prepared from the leaves and bark created a warm liquid that was rubbed on stiff muscles and aching joints to treat scalds and burns. Chewing the bark was said to have a relaxing effect and enhanced restful sleep.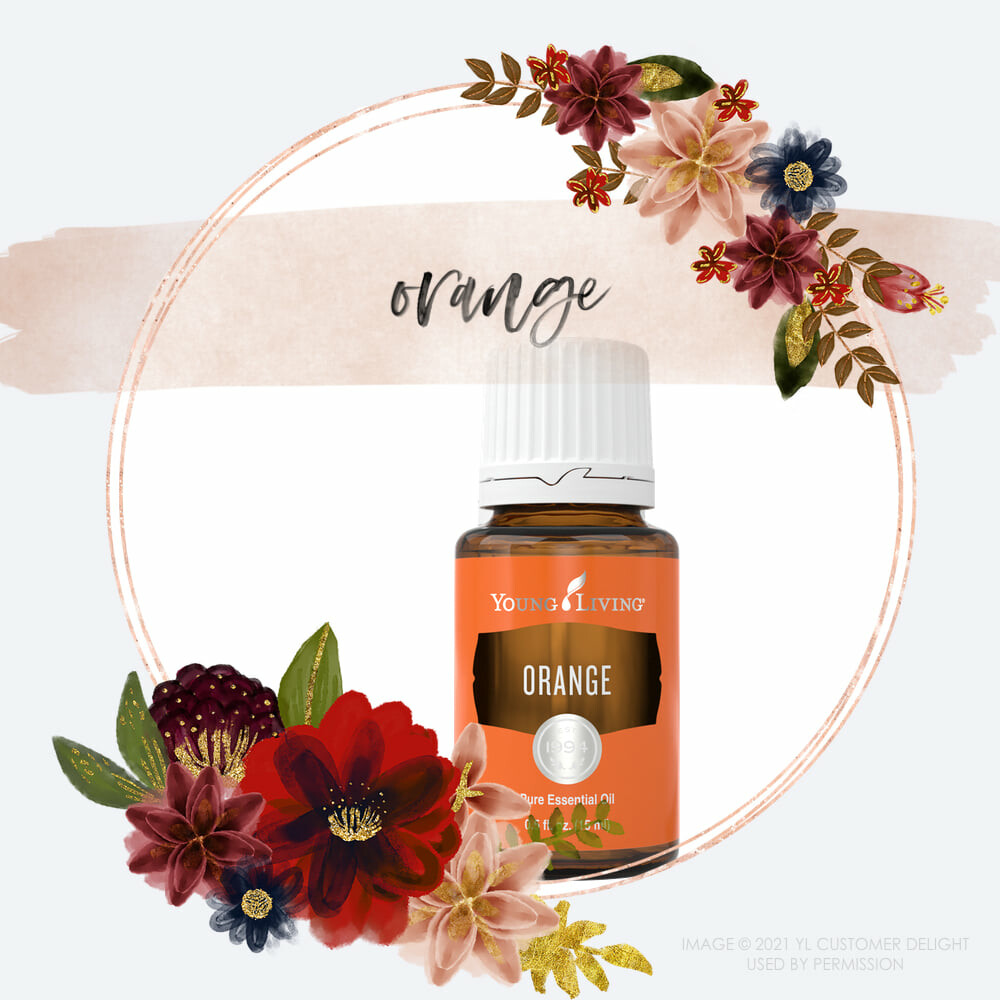 Orange essential oil, cold-pressed from the rinds of oranges, has a juicy aroma reminiscent of the fresh fruit. It has such a pleasant aroma that it is used in several Young Living blends. In addition to being great for skin, Orange oil offers a sweet, peaceful aroma that can fill a room with a sense of peace, harmony, and creativity.
To brighten skin, apply topically in a carrier oil or lotion.*

Helps with oily skin.

Calms skin irritation.

Try making Orange essential oil part of your morning routine—either diffused or applied topically—to start your day off with an inspiring boost of citrus aroma.
*Orange, like other citrus oils, can cause photosensitivity, so avoid applying to exposed skin before spending time out in the sun.
Historical Uses of Orange Peel
People have used citrus fruits as a source of medicines for thousands of years. Herbalists have used the rinds as medicine for numerous maladies throughout history including jaundice and scurvy. Herbalists have used citrus peel to improve digestion, relieve intestinal gas and bloating, and resolve phlegm. This peel acts primarily on the digestive and respiratory systems.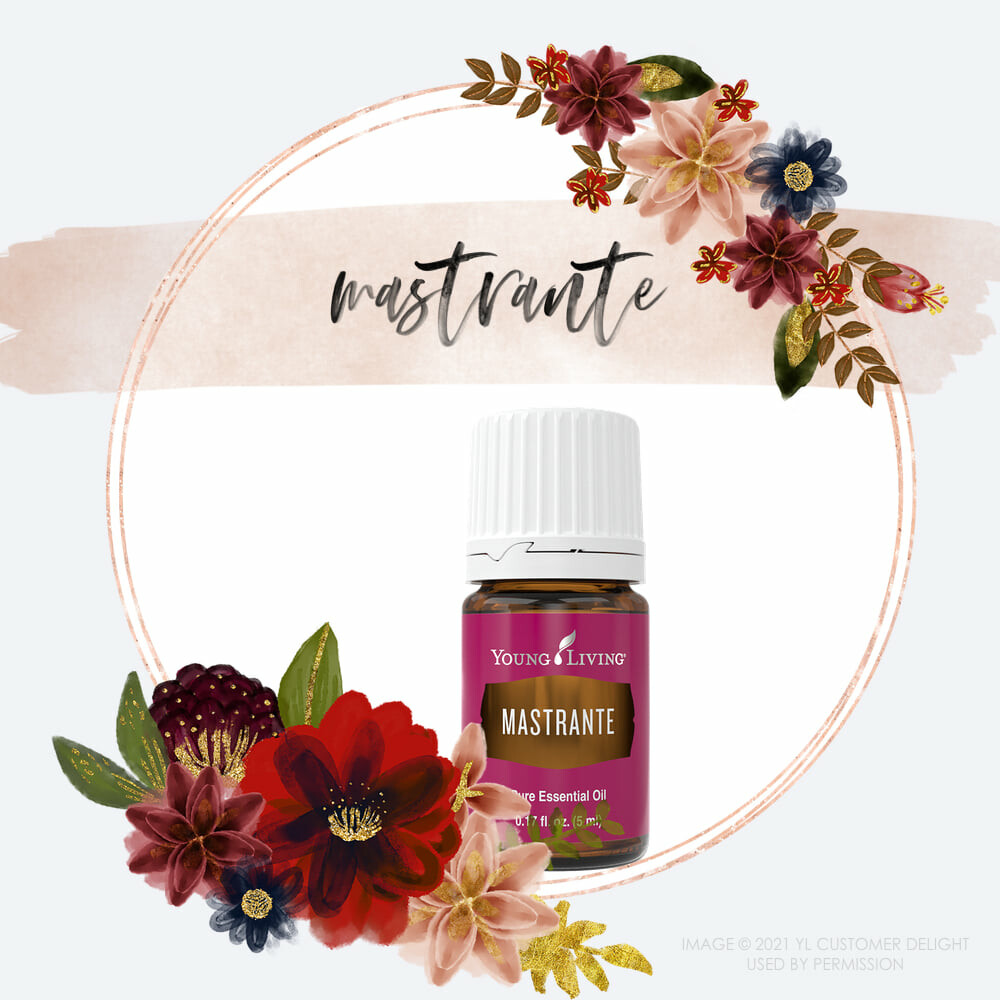 Mastrante is part of the Verbenaceae shrub family, and Genus Species - Lippa alba.
It's essential oil has an earthy aroma that can be enjoyed topically or aromatically. This particular variety is high in limonene and carvone and promotes radiant-looking skin.
A drop or two in a carrier oil or lotion will brightens skin.

Combine with epsom salts to create a relaxing bath for an all-over glow.

Revive tired joints and feet by mixing with a carrier oil and massing into skin.
Other Historical Uses of Mastrante
Mastrante has been used medicinally for thousands of years by indigenous peoples in Central/South America. It's known for its digestive soothing effects as well as somatic, sedative, antidepressant, and analgesic properties. Massaged into joints or used in baths, it's known to revive a sore, tired body. Also used in areas where ticks are prevalent.5
---
---
Your health can be better ~ naturally. Feel free to
email me
for a free consultation.
To order Young Living Essential Oils or nontoxic products, please use my link:
youngliving.com - thanks!