We all know by now that we should be eating at least five servings of fruits and vegetables each day. But knowing and doing are two different things, aren't they? Sometimes it is just not easy to get them all in there. We are constantly tempted to fill up on convenience and junk food. If your family is anything like mine, they'd much rather fill up on a bag of chips or a bowl of rice or pasta instead of trying an apple or a plate of steamed broccoli. So we'll have to get creative. Here are a couple ideas to "sneak" some extra vegetables and fruits in your family's diet.
Add some fruits and vegetables to your family's sandwiches. You can add some banana, sliced apples or strawberry slices to a peanut butter sandwich. Top a turkey sandwich with lettuce, tomato, cucumber and anything else they will eat. You can even make a sub shop style vegetable sandwich by combining several different vegetables with some mayonnaise and cheese on bread.
Have a salad bar at dinner. Set out a variety of chopped vegetables, some cheese and croutons as well as several choices of salad dressing along with the lettuce + spinach and cabbage and let everybody create their own perfect salad.
We all appreciate having choices and the earlier kids can be given multiple healthy choices the more likely they are to develop good eating habits.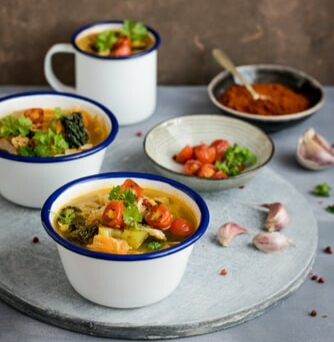 How about trying some new fruits and vegetables. Pick something exotic to get your family's curiosity. With a little luck their curiosity will outweigh their initial apprehension to trying something new. You could try artichokes, plantains, papaya, mango, star fruit, or anything else you can find in the produce department of your local store.
Make a pot of vegetable soup or a stew that's heavy on veggies and easy on the meat. All my kids enjoyed soups so I began adding extra veggies to every recipe and they make some great comfort food when the weather gets cold.
Does your family prefer soup with a thick creamy base or more of a broth?
If your family enjoys a variety of fruits and veggies and is willing to try new things, please share your habits/tricks in the comments!
Tags: Healthy Eating, Eat more veggies, vegatables, good eating habits, kids, get kids to eat vegetables, try new things.
---
Your health can be better ~ naturally. Feel free to
email me
for a free consultation.
To order Young Living Essential Oils or nontoxic products, please use my link:
youngliving.com - thanks!