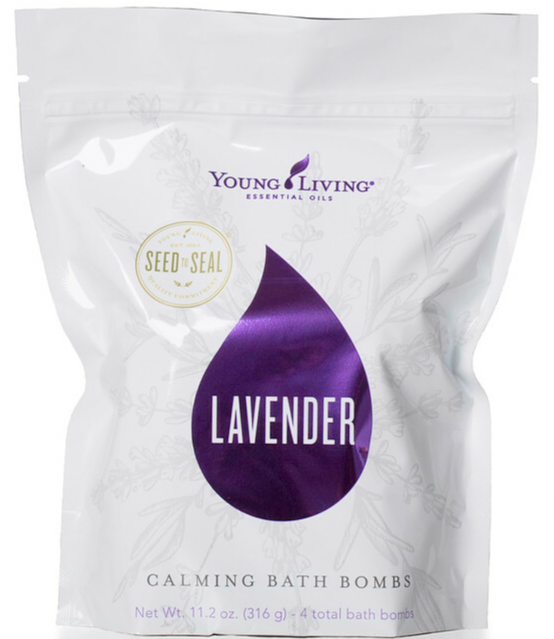 Young Living's Lavender Bath Bombs are loaded with relaxation! You'll know what I mean when you open it up and get a whiff - you'll want to take a deep breath and chill out! They are fabulous after a long day at your desk, a rough day at work or a tough conversation, but my favorite time for a Lavender Bath Bomb bath is on vacation! It's definitely something you'll want to add to your packing list!
If it's a romantic getaway, all the better! Your partner will be thrilled to have you chill. Just remember to pack your Ylang Ylang too, since its been known since ancient times to be an aphrodisiac. 💗
They're great for a little indulgent self-care and t

hey make a thoughtful gift

! A whole bag is a nice gift, but when I just need a little token gift, I will wrap one individually so it looks like a giant piece of candy.
Make your next bath a luxury spa-like experience. Your skin will feel silky and soft and you'll get the benefits of what Lavender Essential Oil does for your emotional health too!
According to Dr. Daniel Amen, natural solutions can work as effectively for many people who suffer from some mental health disorders. Lavender has been given a thumbs up for calming those who experience the attacks of an anxious soul. A study on the National Institute of Health's site confirms that it is safer and can be equally as effective as what might have been given to you.1
Instead of giving your kids a chill pill, you might want to consider a Lavender Bath Bomb.

Kiddos love them too! But they might like these

kids sized cloud shaped bath bombs even better!
To learn more about Lavender Essential Oil check out this blog post.
---
---
Your health can be better ~ naturally. Feel free to
email me
for a free consultation.
To order Young Living Essential Oils or nontoxic products, please use my link:
youngliving.com - thanks!